Another Review From Humanities Council Intern, Bridget Sullivan
Gastman, Roger. Free Agents: A History of Washington, D.C. Graffiti. (Bethesda: R. Rock Enterprises, Inc.,2001)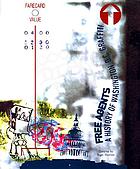 Free Agents: A History of Washington, D.C.
Graffiti contains the stories of some of D.C.'s most notorious graffiti artists in their own words. Roger Gastman uses his knowledge of and connection to the graffiti world to speak with some of the big names in the history of D.C. graffiti. The book covers the personal stories of these artists, as well as their creation of a unique graffiti culture in the District. It also includes several pages of photographs of iconic pieces of DC graffiti. The combination of stories and photographs gives the reader a strong sense of the way that this culture developed over the course of the past few decades.
This work showcases the hidden side of DC graffiti. Although Gastman seeks to highlight that graffiti is not merely an act of rebellion or vandalism, he does not shy away from addressing the less glamorous aspects of this scene. Drug use and police conflicts are addressed head-on in the several stories, but they are discussed from a perspective outside the mainstream.
Gastman's portrayal of graffiti culture captures its ephemeral nature. He shows that the majority of pieces last for a limited time, and that most artists eventually move on from graffiti. Gastman, again, takes a different perspective, stating that this turnover allows newer artists to make their mark on the city. He also emphasizes the role live music shows played as a forum for graffiti artists.
Overall, Gastman makes the case that the graffiti scene of Washington, DC is a lot more than initially meets the eye. He presents the stories of its history in a way that immerses the reader in the underground culture of graffiti art, both good and bad. Further, he focuses the snapshot images within the wider narrative of both the graffiti scene and the life stories of those involved.